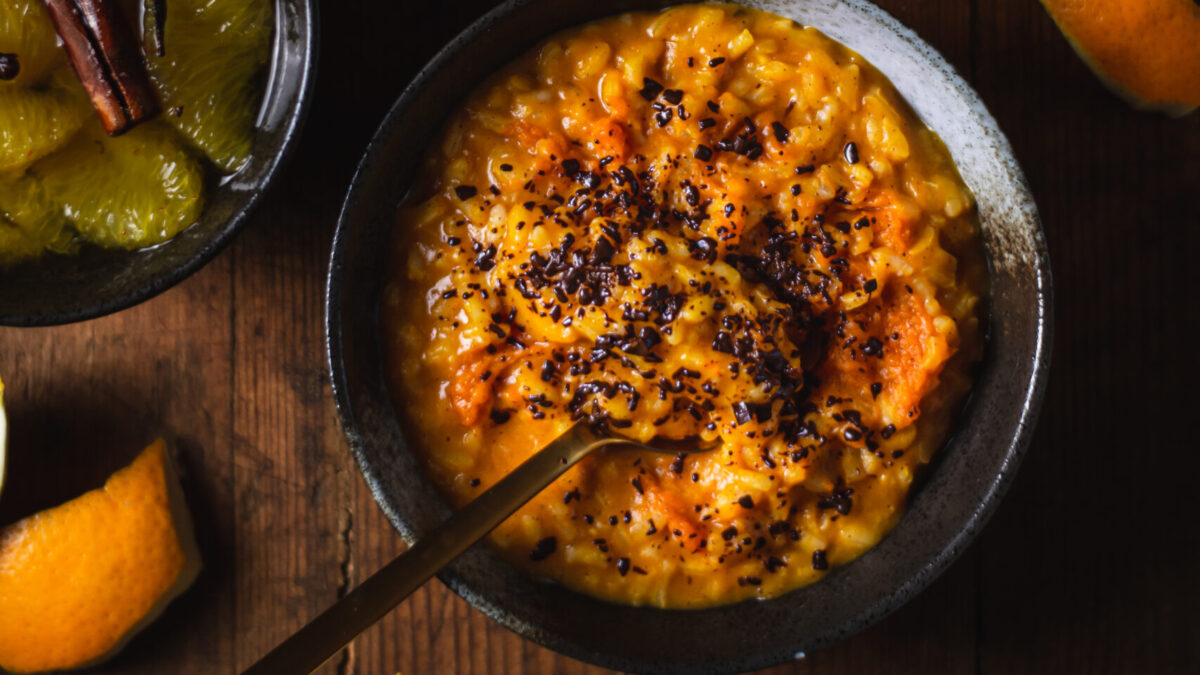 Pumpkin and Orange Risotto
Pumpkin and Orange Risotto
Description
Ever since I finished Massimo Bottura's masterclass, I've been obsessing about this Orange and Pumpkin risotto that I find absolutely delicious and perfect for cold and rainy days like these.

It is sooo easy to make, it just requires some patience and time😊 Since it's a sweet risotto, I have used fresh orange juice to cook it and some amazing spices which complement everything beautifully.At the end, I have added the delicious pumpkin puree which has given a vibrant orange colour and lots of flavour❤️
For the risotto
For the orange syrup
Instructions
Cooking the risotto

In a hot pan, add the olive oil and then add the rice. Make sure you coat each grain of rice with the olive oil, then add a splash of water and mix. Start adding 1 ladle of orange juice at a time and keep on stirring while it gets dissolved. Once the liquid evaporates, add one more ladle and repeat the steps until the orange juice it's finished. If it is too thick, you can always add 1-2 ladles of water. The entire process will take approximately 30 minutes. After the risotto is done, add the pumpkin puree, the nutmeg, the cinnamon and the orange zest. Mix everything well and cook for 1-2 minutes more. The risotto should be creamy and it should wobble gently if you shake it.

Preparing the orange syrup

For the orange syrup, put the sugar and the water together with the spices in a pot and simmer until it becomes bubbly and it has a slightly thick consistency. Meanwhile, peel 2 oranges and cut segments out of it (try to go near the white bits and to take out only the flesh). After 10 minutes approximately, you can turn off the heat and add the orange segment to the syrup. Let them soak for at least 10 minutes.

Serving

Serve the risotto hot together with the orange syrup and some grated chocolate on top (optional). Enjoy!