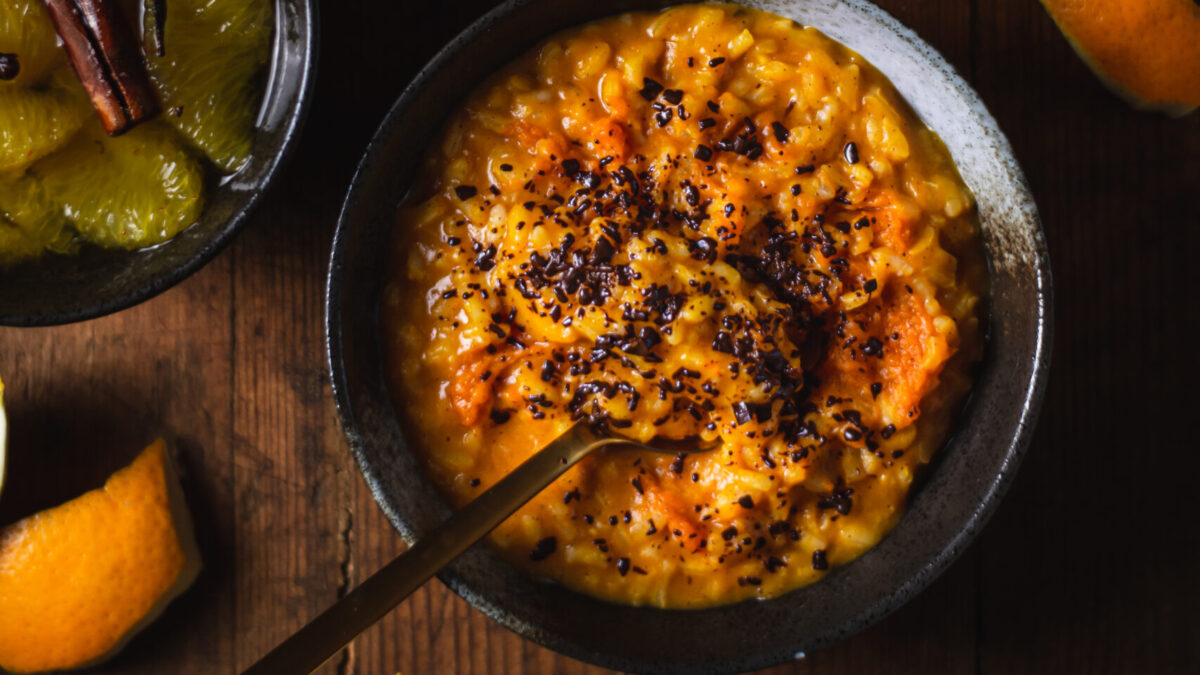 Risotto cu dovleac și portocală
Risotto cu dovleac și portocală
Descriere
De când am terminat masterclass-ul lui Massimo Bottura, am dezvoltat o obsesie pentru acest risotto cu portocale care este delicios și perfect pentru zilele reci și ploioase ca acestea.

Este atât de ușor de făcut, necesită doar puțină răbdare și timp😊 Deoarece este un risotto dulce, am folosit suc proaspăt de portocale pentru a-l găti și câteva condimente care completează totul minunat. La sfârșit, am adăugat deliciosul piure de dovleac care a dat o culoare portocalie vibrantă și multă aromă❤️.
Pentru Risotto
Pentru siropul cu portocale
Instrucțiuni
Prepararea risotto-ului

In a hot pan, add the olive oil and then add the rice. Make sure you coat each grain of rice with the olive oil, then add a splash of water and mix. Start adding 1 ladle of orange juice at a time and keep on stirring while it gets dissolved. Once the liquid evaporates, add one more ladle and repeat the steps until the orange juice it's finished. If it is too thick, you can always add 1-2 ladles of water. The entire process will take approximately 30 minutes. After the risotto is done, add the pumpkin puree, the nutmeg, the cinnamon and the orange zest. Mix everything well and cook for 1-2 minutes more. The risotto should be creamy and it should wobble gently if you shake it.

Pregatirea siropului de portocală

Pentru siropul de portocale, puneți zahărul și apa împreună cu condimentele într-o oală și fierbeți până când face bule și are o consistență ușor groasă. Între timp, decojiți 2 portocale și tăiați segmente din ea (încercați să tăiați pe lângă părțile albe și să scoateți doar pulpa). După aproximativ 10 minute, puteți opri focul și adăugați segmentele de portocale în sirop. Lăsați-le să se înmoaie cel puțin 10 minute.

Servire

Se servește risotto-ul fierbinte, împreună cu siropul de portocale și cu puțină ciocolată rasă deasupra (opțional). Poftă bună!