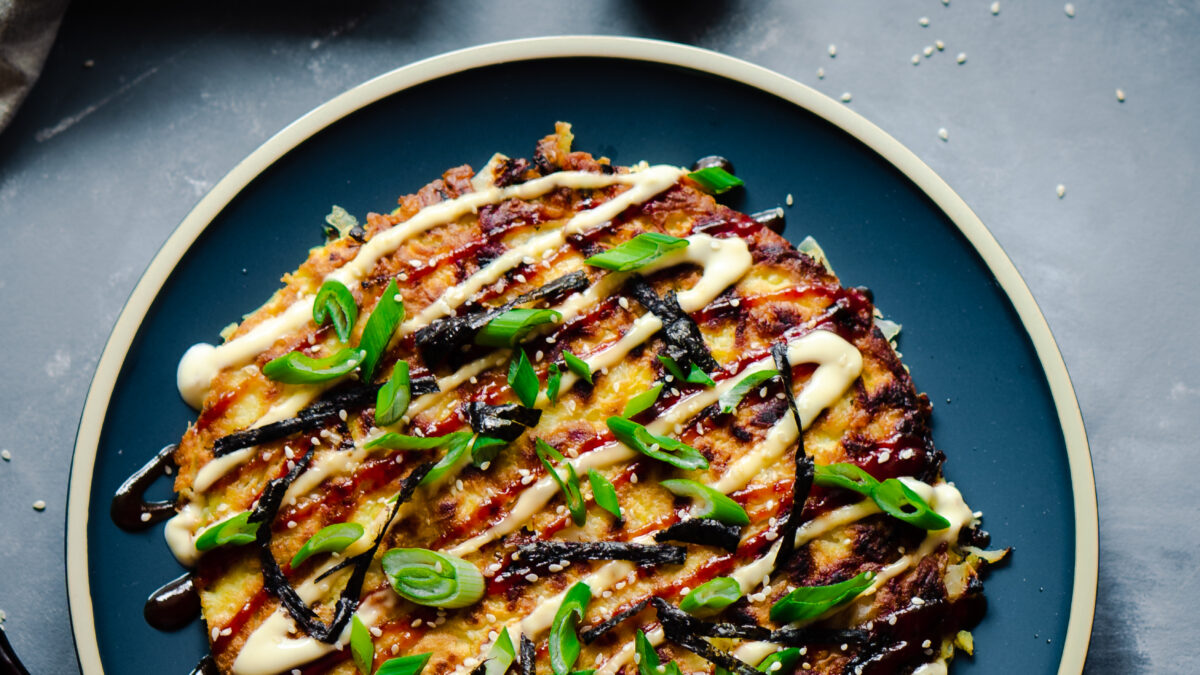 Okonomiyaki Recipe (Japanese Pancake)
Okonomiyaki Recipe (Japanese Pancake)
Descriere
Okonomiyaki is one of the most famous street food items worldwide. It is insanely good! So simple but so delicious! My version that I would like to present to you is vegetarian (normally pork belly is added or bacon) but feel free to customize it, there are so many versions of it that you can just let your creativity flow.

This Japanese pancake has evolved from the Japanese sweet crepe Funoyaki which was served during Buddhist ceremonies. It started picking up only after WW2, when it became very popular and when people started adding more savoury items to it rather than making it sweet.

Okonimyaki usually has some basic ingredients, which are cabbage, egg and flour. To these, the possibilities are endless! So many toppings!
I have tested this recipe from BBC Good Food magazine and I loved it. I hope you will give it a try too, it is very easy and delicious.
For the pancake
Pentru sos
Instrucțiuni
Asamblarea sosului

Add the Worcestershire sauce, ketchup and sugar to a small pot and simmer for 3 minutes or just enough until it starts boiling and the sugar is dissolved and all the ingredients are combined. Set it aside.

Making the pancake

Start by mixing the egg with the flour. Add the flour little by little, then start adding water when the batter is too thick. Add the flour and water alternating until you get a smooth batter. Add the chicken stock powder and give it a mix. Add the shredded cabbage and incorporate it into the batter. At this point you can add salt - pay attention, the vegetable stock powder is very salty so you might not need to add extra salt.

Heat a pan and add the 2 tablespoons of oil. Add the pancake batter, making sure you spread it in a nice and thick circle. Cook the pancake for 2-3 minutes on one side, flipping it carefully using a plate (see video). Cook it on the other side for 2-3 minutes, then serve it with toppings of your choice plus the sauce that we made. I added mayo, nori sheets, sesame seeds and spring onion. Enjoy! You will love it!